Project
Plus Development x Dubai Office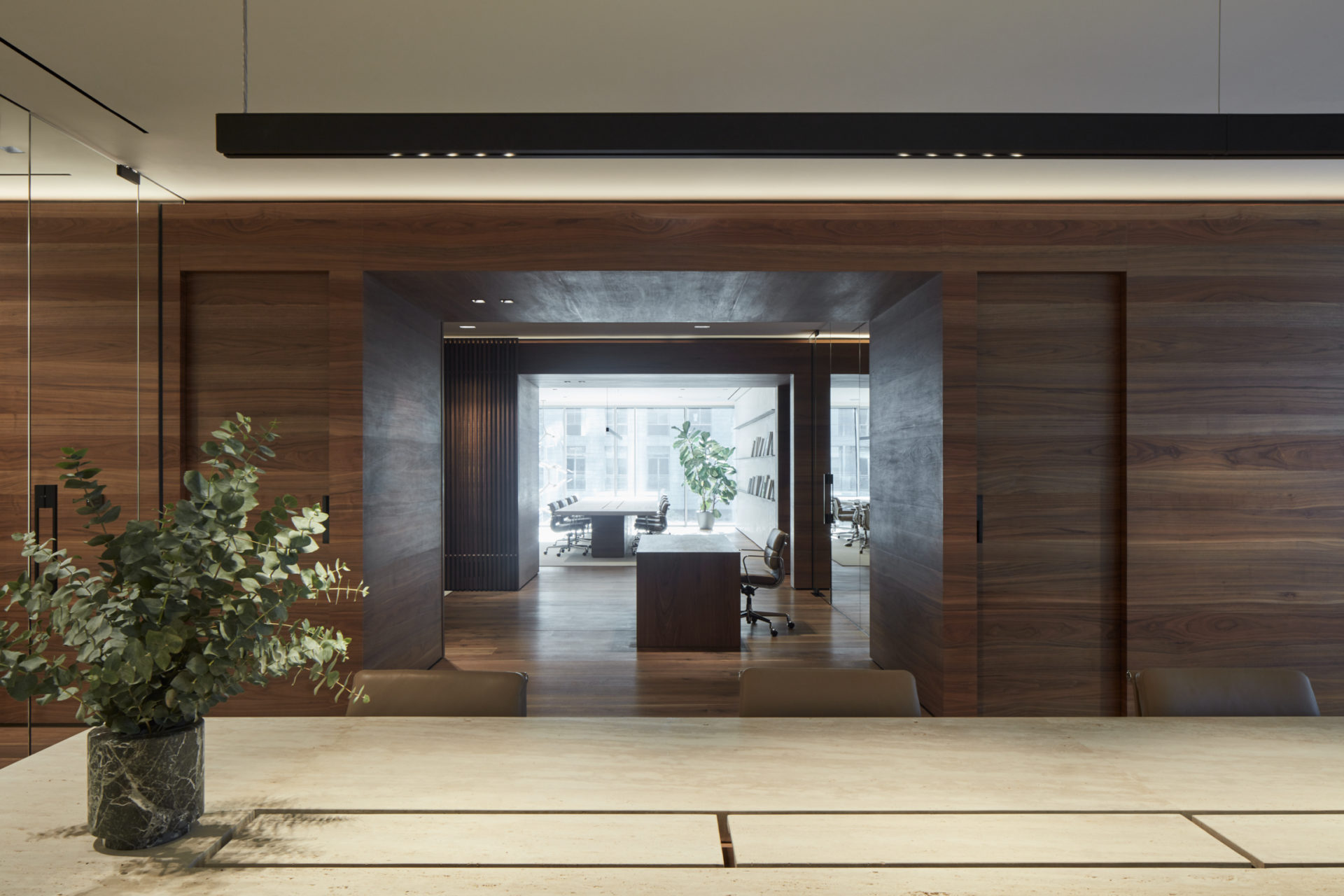 Representing a great example of how through collaboration two design teams from different parts of the world can come together and merge into one unique design ethos. A client with vision and stellar taste is the key ingredient.
The design was conceptualized and developed by Plus Design Studio in Los Angeles then excellently executed by Studio M who acted as local architect of record. Studio M's extensive experience in details and commercial work in the region added a very important layer of local contextual relevance.
The space is largely organized by two flanking walnut volumes which double as the "utility containers".  These volumes carry the brunt of functions such as storage, openings, access, thresholds, and screening for privacy.
The interplay of materials, dark and light, connecting and intersecting in the purest of ways, create balance and harmony between the volumes. The intention was to exhibit the materials in their most natural state.
The natural walnut wall paneling envelopes the space and embodies the core volumes, framing the passageways and allowing the seamless sequence of functions from room to room. This is juxtaposed with soft, chalky plastered walls that bring an element of calm refinement. Waxed, patinated floating metal shelving adds to the contrast and brings out all these details to the foreground.
The bespoke custom travertine worktables are paired with classic Eames office chairs to create an effortlessly sophisticated space to work and collaborate.  Another notable design aspect are the sliding slatted solid walnut screens that flank both sides of the main reception in a symmetrical fashion. They allow privacy without disrupting the flow or the daylight.
A curated mix of vintage and highly coveted European mid-century pieces from the client's extensive travels in Europe completes the experience, enriching the space with yet another layer of paired down luxury and individuality. The introduction of mohair and sisal area rugs throughout the office adds to the warm and texture."